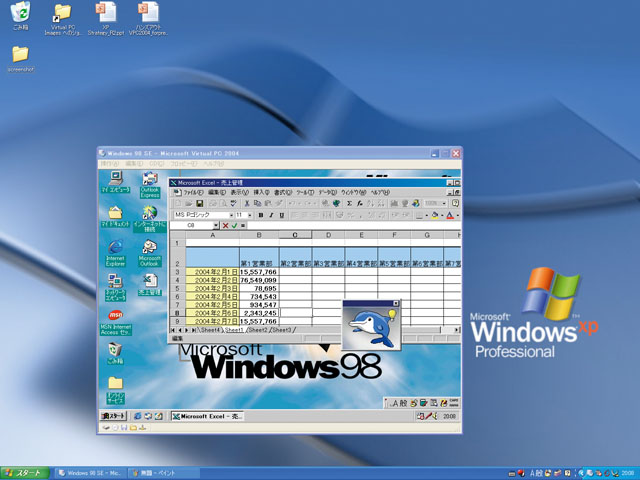 Het komt regelmatig voor dat een spel of programma heeft die niet onder de nieuwste versie van Windows wil draaien. Of misschien wil je wel een ander besturingssysteem, bijv. Linux, uitproberen zonder je huidige besturingssysteem (bijv. Windows, Linux, Mac OSX) te verwijderen. Of je wilt gewoon een programma testen zonder deze op je eigen besturingssysteem te draaien, omdat deze voor veel rotzooi of problemen kan zorgen.
In deze gevallen kun je gebruik maken van een virtuele machine.
Een virtuele machine/computer is gewoon een programma die je op je pc draait maar zich volledig voordoet als een computer. Je kunt er dus ook gewoon besturingssystemen op installeren en al je programma's. Om dit te doen heb je het volgende nodig:
Een computer die een beetje kracht heeft (afhankelijk van de dingen die je wilt gaan doen).
Virtualisatie software (programma om een virtuele computer mee te maken)
Een cd/dvd met het besturingssysteem wat je wilt installeren.
Er zijn verschillende virtualisatie programma's te krijgen. Sommigen alleen betaald, anderen ook gratis. Enkele programma's: virtualbox, vmware player, virtual machine, xen, Qemu. Er zijn genoeg handleidingen te vinden op het internet. Mocht je vragen hebben over een van deze programma's? Stel deze dan doormiddel van het plaatsen van een reactie of maak gebruik van het forum.
Voor de meeste besturingssystemen (betaald) is vaak wel een testversie te vinden op het internet, zodat je het kunt uitproberen, maar ook de gratis besturingssystemen (bijv. linux) kun je zo van internet afhalen. Maar misschien heb je thuis ook nog wel een oude cd van een ouder besturingssysteem te liggen (bijv. Windows 98) waarop het programma nog wel wil draaien. Deze kun je natuurlijk ook gewoon gebruiken.