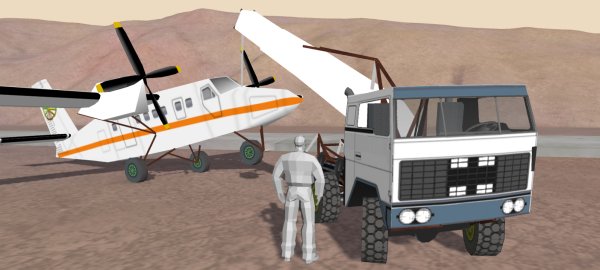 Rigs of Rods is een spel/simulator waarbij je verschillende soorten voortuigen kunt besturen. Het gaat om o.a. bussen, auto's, vrachtwagens, vliegtuigen, etc. Dus bijna elk voertuig met wielen en/of vleugels.
Er zijn vele verschillende mappen te downloaden waar je je uren mee kunt vermaken. Ook zijn er zeer veel verschillende voertuigen die je kunt downloaden.
Het is mogelijk om het spel on-line met meerdere spelers te spelen, wat het spel zeker ten goede komt. Hierdoor kun je onderling wedstrijden gaan rijden of elkaar gewoon lekker achtervolgen.
Grafisch is het spel niet zeer sterk en er wil nog wel eens een foutmelding optreden, maar daarom zit het spel op dit moment ook nog in een ontwikkelfase. Maar als je van zulke spellen houd, mag dit de pret zekers net bederven.
Je kunt het spel vinden op www.rigsofrods.com